Seattle Central wins approval for new IT Networking bachelor's degree
Over 7,500 networking positions will be created in the next five years, according to the Workforce Development Council of Seattle and King County, and residents of Seattle will soon have a new pathway to these in-demand jobs. A new bachelor's degree at Seattle Central College in Information Technology-Networking (IT-N), approved today by the Washington State Board for Community and Technical Colleges, will train students for these higher-level jobs beginning in fall of 2016.
"This degree will help our students keep up with the growing opportunity in our city's booming technology industry," Seattle Central President Sheila Edwards Lange, Ph.D., said. "Employers like Amazon, Microsoft and other tech companies are looking for employees with advanced information technology credentials, and this bachelor's degree offers an affordable route for our students to prepare for these well-paying jobs."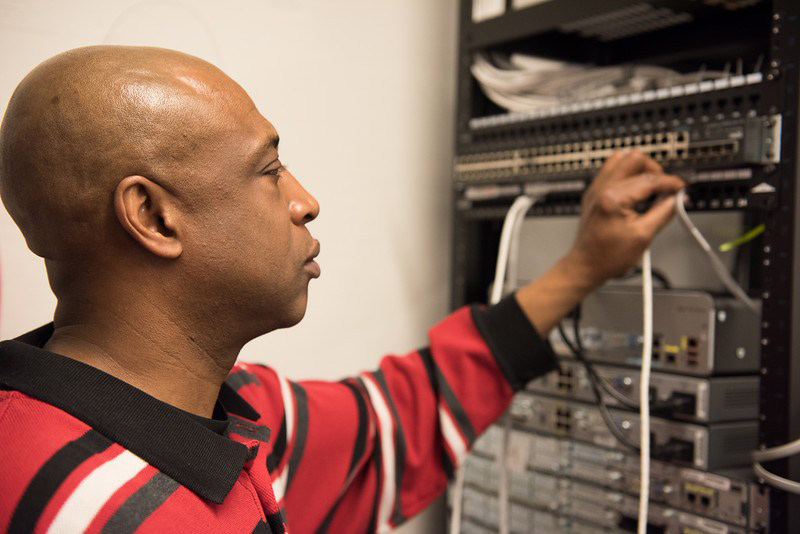 College's third bachelor's degree will help area residents train for well-paying technology careers.
Seattle Central added the new degree after research indicated a growing regional need for networking information technology workers with at least a bachelors' degree. Network and computer systems administration positions were the seventh most in-demand in King County, according to a 2014 State of Washington report. Over 70 percent of professionals currently in these positions have bachelor's degrees, according to EMSI Analyst, a company that analyzes labor market data.
The program will provide a broad base of theoretical and technical knowledge to educate students for higher-paying, high-demand jobs. Along with equipping graduates with industry-specific skills and certifications, the curriculum will train them to communicate effectively and to efficiently solve problems in the workplace.
Offering this program at Seattle Central also makes economic sense for students. The mean annual salary of a network and computer systems administrator in King County is $85,000, according to the U.S. Bureau of Labor and Statistics. Seattle Central will offer this training at one-third of the cost compared to private institutions.
In addition to Information Technology, Seattle Central also offers Bachelor of Applied Science (BAS) degrees in Applied Behavioral Sciences and Allied Health.
To learn more about the new applied bachelor's degree, contact Lisa Sandoval at 206.934.5575 or Lisa.Sandoval@seattlecolleges.edu.